How to Mix Patterns in Your Home: Designer Tips from Ali
Thursday Jul 12 2018 by Stacey Beyer
Mixing patterns within your space can sometimes be a challenging task! So, how do you mix patterns like a pro? Well, today we are thrilled to hear from expert designer Ali on how to correctly mix all those gorgeous patterns in your home.
We sometimes can feel overwhelmed with so many fabric choices when selecting upholstery or when you are trying to create a perfectly balanced look with a punch of personality in your space. Ali has some helpful tips to guide you in the right direction when it comes to mixing patterns and color within your home.
Mixing varied patterns in your home can bring out the indiviuality of your design style in a big way. Incorporating assorted colors and diverse patterns with varied scales can take your home from ordinary to looking like a professional designer has worked marvelous magic!
Here are a few simple design tips from expert interior designer, Ali, that will help you begin to mix and match patterns within your home with ease.
1. COLOR
Start with two colors which will work delightfully in your space. This will keep the task simplified and will add the desired color and contrast to your space without "over-doing" it. Refrain from adding a third color (yet). Live with the two colors for a few weeks and see if you really like the mix.
(our inspiration image with bright orange and navy blue hues)
2. ADDING PATTERNS
After you have lived with your two color selection and really like the combination, you can then blend in a third color and/or pattern! Flirty florals, stunning stripes, perfect plaids and gorgeous geometric prints are all classic patterns to select from. Do not be shy about your third selection, take a walk on the wild side and even mix in an animal print!
3. BLENDING
Here is a big design secret when it comes to "tying" your patterns together. Be sure to select at least one fabric that has two of your selected colors in it. This is key to correctly blending and mixing patterns and color with simplicity. This one step will help incorporate and allow your room to cohesively flow together.
4. SCALE
Be sure to integrate varied size and scale of your patterns. For example, if you desire stripes and floral patterns, do not use ALL stripes and florals that are the same size. Mix up the scale by doing a large buffalo check, a smaller stripe ticking and a medium-sized floral. This will give the space a united feel and will enhance the color pattern play.
5. RULES
As designers, we do break the rules (gasp!). If you fall in love with a floral or conflicting patterns, it is alright! By being unique and occasionally breaking the rules, you can still create stunning design. These are just some general guidelines to help you achieve an expert look of mixing color and patterns together. If you happen to gravitate toward several striped patterns you adore, by all means do what you love the most in your surroundings and enjoy it!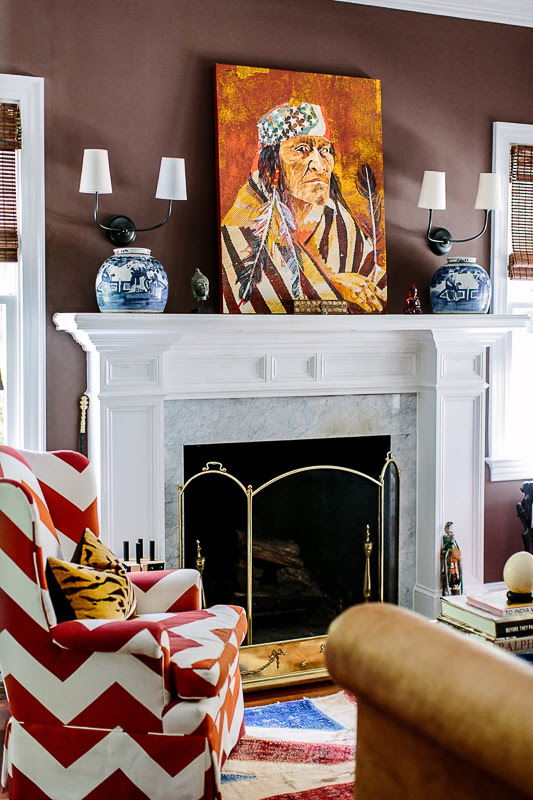 Seeing beautiful interiors are always a great way to get inspired! Ali mentions an exquisite and expressive blog, I Suwanee. They feature a designer, Lila Hobogood, whose home is full of ideas for mixing and matching patterns. Lila's home is an expression of her personality and passions in life. Take a look inside of her home here for ideas on mixing and matching patterns like a pro! Designer Lila Hobogood's does an outstanding job of allowing her design style and her passions to come flying through with her smart use of color and patterns.
If you desire to take your room up a notch, consider adding bold colors and mixing in those pretty patterns! Combine complementary patterns to bring vitality into your room, refresh your current pillows, rugs and artwork with lively color.
Whatever designer style suits you, allow the patterns and color to fit your personality! The designers at The Black Goose Design are eager to hear your ideas and help you achieve your vision. Let the pop-of-pattern shape your space into a comfortable haven that will define home to you.
*Disclaimer photos from Pink Chandelier, I Suwanee Design
Labels: interior design tips salt lake city interior design mixing patterns upholstery fabric bold pattern and color